Xclaim Indoor Dual-Band (2.4GHz & 5GHz Concurrent) 802.11ac Wireless Access Point - 1.167Gbps. 2x2 Spatial Streams. Includes PoE Adapter. For business' with high data use.
Product Overview - Now with Cloud management software!
Xclaim Xi-3 | BUSINESS-CLASS WI-FI ACCESS POINT
Xclaim access points provide superior functionality, elegant simplicity, and competitive pricing for small businesses. The Xi-3 AP is a dualradio, dual-band concurrent AP utilizing the latest 802.11ac Wi-Fi technology. The Xi-3 AP boasts industry leading Wi-Fi performance with speeds up to 1.167 Gigabits per second making it a perfect fit for dense environments such as classrooms and public venues.


Features you'll love:
Dual-Band 802.11ac Indoor Access Point – 1.167Gbps

Advanced RF design, Dynamic channel selection (auto), Automatic traffic prioritization (auto)

Airtime Fairness (auto), Band Steering (auto), Client isolation

Single or multi-AP environments

4 SSIDs per AP

Cloud ready management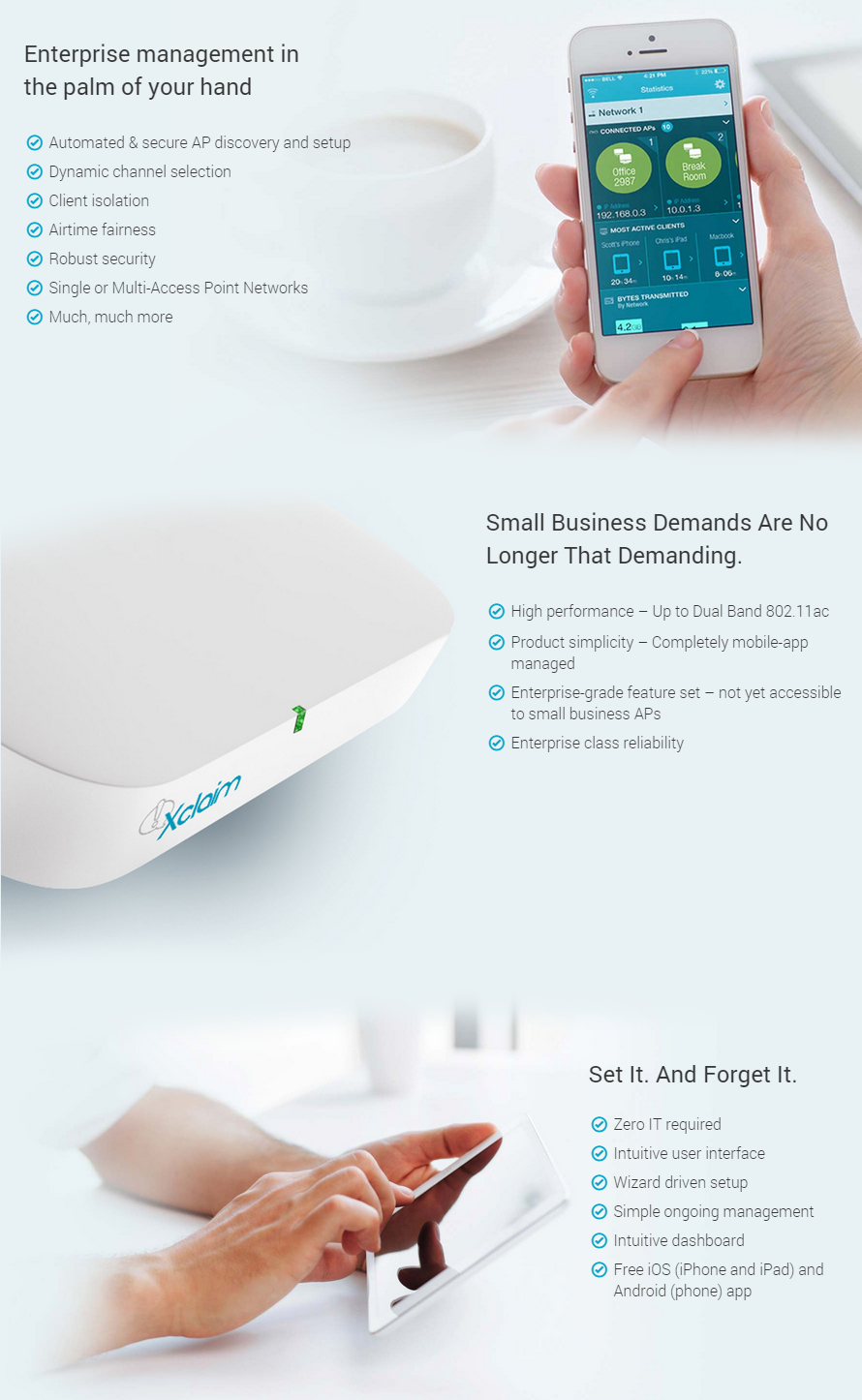 WI-FI

IEEE 802.11a/b/g/n/ac, 2.4GHz and 5GHz

Supported Data Rates

802.11n/ac: 6.5Mbps – 173.4Mbps (20MHz)




13.5Mbps – 400Mbps (40MHz)




29.3Mbps – 867Mbps (80MHz)




802.11a: 54, 48, 36, 24, 18, 12, 9 and 6Mbps




802.11b: 11, 5.5, 2 and 1 Mbps




802.11g: 54, 48, 36, 24, 18, 12, 9 and 6 Mbps

Radio Chains

2 x 2

Frequency Band

IEEE 802.11 b/g/n: 2.4 – 2.484 GHz




IEEE 802.11a/ac: 5.15 – 5.25 GHz; 5.25 – 5.35GHz; 5.47 – 5.725 GHz; 5.725 – 5.85 GHz

Operating Channels

US/Canada: 1-11, Europe ( ETSI X30): 1-13, Japan X41: 1-13




5 GHz channels: Country dependent

Wireless Security

WPA-PSK, WPA-TKIP, WPA2 AES

Ethernet Ports

1 auto MDX, auto-sensing 10/100/1000 Mbps, RJ-45, POE port (on one port)

Power

DC Input: 12 VDC 1.0A, Power over Ethernet 802.3 af

Product Weight

350 g (0.77 lb.)

Warranty

1 year

Dimensions (HxWxD)

15.8 cm x 15.8 cm x 4 cm (6.2 in x6.2 in x 1.57 in)